Anti Wrinkle Injectables
1mlSkin - Result-Driven Anti Wrinkle Injectables Treatment.
Discover More
What Is Anti Wrinkle Injectables ?
Anti-Wrinkle Injections are one of the most popular anti-ageing treatments globally. This treatment can be used for a wide variety of concerns including fine lines and wrinkles, as well as excessive sweating. This treatment works by temporarily preventing muscle contractions by blocking the nerve signals, to then create a smoother skin surface. This minimally invasive treatment is most commonly used to treat the frown lines between the eyebrows, Crow's Feet along with some other uses such as helping with migraines, excessive sweating and jawline slimming. A typical Anti-Wrinkle Injection treatment can take a little as 10 minutes, plus consultation, requires no downtime or preparation.
| Areas | Price |
| --- | --- |
| Crows Feet | From $200(60-80 unit) |
| Forehead | From $75 |
| Frown | From $150 |
| Bunny line | From $10 |
| Lip Flip | From $40 |
| Smokers Line | From $40 |
| Brow Lift | From $120 |
| Gummy Smile | From $75 |
| Dimple Chin | From $75 |
| Broxisim | From $400 |
| Neck Rings | From $500 |
Anti Wrinkle Injectables Works Best For
Accordion Lines

Bunny Lines

Chin Dimpling
Crows Feet

Forehead Lines

Frown Lines
Real Clients
Real Results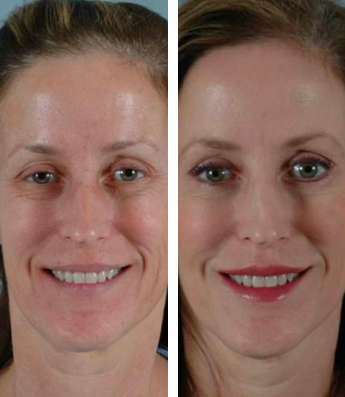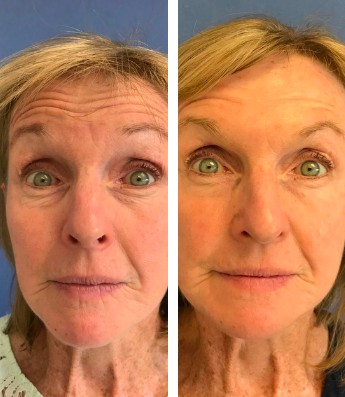 How does it work? What does it treat?
Anti Wrinkle Injectables Treatment
Anti-Wrinkle Injections work by temporarily paralysing the facial muscles, blocking the communication between the nerve and the muscle. Once these muscles relax, the overlying skin
will begin to smooth out.
1ml Skin Clinic is a professional aesthetic skin clinic that brings together state of the art equipment, best in class qualified staff with leading-edge treatments in a luxury setting.
Book An Appointment
Some
Additional Information

Is there downtime?
You may experience some redness and swelling at the injection site for a few hours post- treatment, however there is no social downtime. We recommend avoiding strenuous exercise, steam rooms, saunas or any extreme temperatures after you treatment.
Does it hurt?
As this treatment involves some injections, there may be some discomfort but as this is a quickly- performed treatment, it doesn't last long.

When will I see results?
This will depend on a number of factors, with most patients seeing results within 10 to 14 days post-treatment.

How long do results last?
Results often last for 3 to 4 months, depending on what area is treated and your metabolic rate.
Book A Consultation To Discuss How We Can Help You Reach Your Skin Goals.
Talk To Our Professionals Today!
Book Now